Why You Should Not Skimp on Scalp Care, According to a Dermatologist
DISCLAIMER
This blog does not intend to provide diagnosis... Read More

This blog does not intend to provide diagnosis, treatment, or medical advice. Read more. The content provided on this blog is for informational purposes only. Please consult with a physician or other healthcare professional regarding any medical or health-related diagnosis or treatment options. Information on this blog should not be considered as a substitute for advice from a healthcare professional. The claims made about specific products throughout this blog are not approved to diagnose, treat, cure, or prevent disease.
In this article: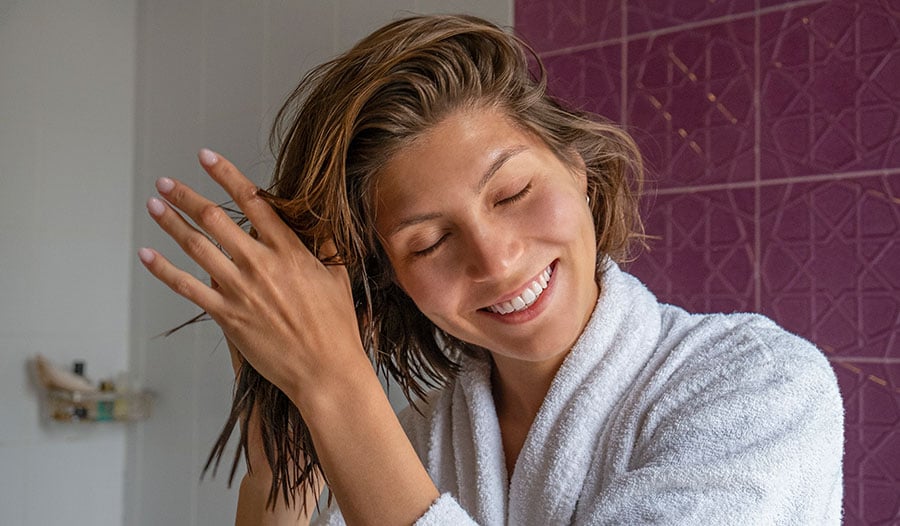 The beauty industry has made sure to inform us of the benefits of having a comprehensive skincare regimen—we know all about the importance of cleansing, moisturizing, exfoliating, and protecting the skin on our faces.
But what about the skin on our scalps? If there's one thing I know as a board-certified practicing dermatologist, it's that there is a lot of confusion surrounding hair and scalp care. What products to use, how to use them, and how different hair types should be treated are things that few people seem to agree on, particularly given the abundance of hair products that line well-stocked beauty aisles. When you throw in an actual medical condition affecting the scalp, the waters get even murkier.
Here, I'll be sharing some things to keep in mind when it comes to scalp care, along with a deeper dive into some common conditions that may be holding you back from optimal scalp health.
Why Should I Care About My Scalp Health?
Simply put, healthy hair really does begin with a healthy scalp. We know, for example, that chronic scratching to relieve an itchy scalp can result in damage to hair follicles and subsequent hair loss. Research also suggests that chronic scalp irritation and inflammation itself can cause damage to hair.
If you're frustrated with hair breakage, brittleness, or suboptimal hair growth but haven't done anything to address scalp itching, flaking, or redness, then you may not see progress until you get to the root of the problem—pun intended!
Aside from chronic inflammatory scalp conditions that may require the help of a dermatologist, many also suffer from dry scalp related to a number of other factors, including diet, stress, medications, styling and shampooing practices, weather, and illness.
How to Care for Your Scalp
Now that I've convinced you that you should care about scalp health, let's talk about some practical ways you can give your scalp as much attention as you do the rest of your body.
Scalp Exfoliation
Exfoliation is, simply put, the process of removing dead skin cells from the outer layer of your skin. The benefits of scalp exfoliation include the removal of dirt, product, and dead skin cells from the scalp surface, thereby promoting hair growth. This can be accomplished via physical exfoliation (think scrubs and exfoliating massage brushes) or chemical exfoliation (topical acids or enzymes which work to remove dead skin cells). A scalp massage brush helps to dilate blood vessels in your scalp, which may also encourage hair growth. Be careful not to overdo it—over-exfoliation can lead to scalp irritation which is certainly counterproductive to your goals, so stick to once or twice per week.
Here are some great products to get you started on scalp exfoliation:
Dr. ForHair Folligen Sea Salt Scaler
Descale your scalp with Dr. ForHair Folligen Sea Salt Scaler. This product utilizes salt from the Dead Sea. This silicone and sulfate-free formulation is great for oily scalps.
Zion Health Deep Cleansing Scalp & Hair Scrub
Zion Health Deep Cleansing Scalp & Hair Scrub is a vegan, sulfate-free, paraben-free, and gluten-free scrub is formulated to gently exfoliate and help dissolve build-up from dirt, excess oils, and hair products. I like the Pear Blossom scent but they have several to pick from.
Kitsch Scalp Exfoliator
The Kitsch Scalp Exfoliator is a great example of a physical exfoliator that uses flexible bristles to stimulate scalp circulation as well as dislodge adherent scalp flakes. As an added bonus, it feels like you're getting a relaxing scalp massage – at home and for an affordable price!
Head & Shoulders Supreme Exfoliating Scalp Scrub
The Head & Shoulders Supreme Exfoliating Scalp Scrub, rich in Vitamin E and Argan Oil, is meant to precede your shampoo and conditioner steps. Massage into the scalp to remove buildup, rinse, then follow with your shampoo.
Jason Natural Anti-Dandruff Scalp Care Shampoo
Jason's Natural Anti-Dandruff Scalp Care Shampoo works to chemically exfoliate with salicylic acid, which targets thicker scaling. Combined with sulfur, this product is great for seborrheic dermatitis and mild psoriasis. In addition, this product is Leaping Bunny certified and made without sulfates or parabens.
DERMA E Scalp Relief Shampoo
Another salicylic acid chemical exfoliator, DERMA E Scalp Relief Shampoo is also cruelty-free and contains enriching vitamins to hydrate your scalp. Tea tree oil helps to soothe irritation, menthol for a cool, refreshing sensation, and a proprietary herbal blend to promote manageability and shine for healthier-looking locks.
Scalp Moisturization
Feel like you have chronically dry skin? This may mean you're more prone to—you guessed it—dry scalp. This can be related to things within your control, such as how frequently you shampoo, as well as things out of your control, such as genetics and seasonal weather changes that cause drier air in the cold winter months. Lack of moisture in the scalp can lead to itching and flaking, even if it doesn't quite meet the threshold of something like seborrheic dermatitis or psoriasis. Deep conditioning hair and scalp masks can be a great way to combat dry scalp and the flakes it produces. Here are some of my favorites:
Dove Hair Therapy Dry Scalp Care Leave-On Treatment
The Dove Hair Therapy Dry Scalp Care Leave-On Treatment contains Vitamin B3 to maximize moisture delivery to the scalp. Paraben and cruelty-free, this spray is applied directly to either dry or damp scalp in sections, massaged in, and left in place.
Advanced Clinicals Tea Tree Oil Detoxifying Hair Mask
Advanced Clinicals Tea Tree Oil Detoxifying Hair Mask is a deep conditioning hair mask that is a no-brainer when it comes to scalp and hair moisture. This popular hair mask contains tea tree oil to soothe itchy scalp, coconut oil to moisturize, and Vitamin B5 to strengthen hair. No animal testing, parabens, or sulfates here!
DERMA E Scalp Relief Treatment
DERMA E prides itself on cruelty-free vegan formulas, and this product is no exception. This Scalp Relief Treatment serum contains that same proprietary herbal blend of Neem, Burdock, and Bearberry as well as moisturizing Aloe Vera, cooling Menthol, and soothing Tea Tree Oil.
Treating an Underlying Scalp Disorder
If you feel that your symptoms go beyond just mild, intermittent flaking and occasional itching, you may have a chronic underlying scalp condition such as psoriasis or seborrheic dermatitis.
Psoriasis
Psoriasis is a chronic inflammatory disease of the skin that often affects the scalp, causing scalp itching and a flaky, red rash. While we do not understand completely what causes psoriasis, there are likely multiple factors at play, including genetics and external factors such as stress and infections. Scalp psoriasis, when severe, is thought to affect hair growth due to chronic inflammation within hair follicles and overproduction of skin cells, creating a suboptimal environment for new hair to grow in.
Seborrheic dermatitis
Seborrheic dermatitis is another chronic scalp condition I frequently see and treat in my clinic. Many of us have experienced this at some point of another and know it simply as "dandruff." It is caused by the overproduction of sebum, the oil produced by sebaceous glands, which facilitates the growth of a yeast called Malassezia. This yeast is a normal part of our skin flora, even in individuals without visible flakes, but some of us seem to have a reactive immune response to it while others do not. Hair that grows from a dandruff-affected scalp has been found to have significantly more protein damage compared to hair that grows from a healthy scalp. One study showed that the cuticle, or protective outermost layer of the hair shaft, of dandruff-affected hair was also significantly damaged and that the overall hair diameter was decreased by up to 35% in dandruff-affected hair.
Salicylic acid, previously mentioned above while discussing exfoliation, is a good over-the-counter remedy for both of these conditions—here are two other products I frequently recommend:
Head & Shoulders Clinical Strength Dandruff Defense Shampoo: Dry Scalp Rescue
Head & Shoulders Clinical Strength Dandruff Defense Shampoo: Dry Scalp Rescue contains selenium sulfide, a powerful anti-dandruff ingredient that helps to reduce severe scalp flaking and itching. It is also infused with manuka honey, which is known for its hydrating and antioxidant properties.
Artnaturals Scalp 18 Shampoo Coal Tar Formula
artnaturals Scalp 18 Shampoo Coal Tar Formula contains coal tar, a favorite solution to stubborn dandruff, which can also be helpful for the scaling, itching, and flaking seen in scalp psoriasis. It works best when left on the scalp for a few minutes before rinsing.
How Do I Keep My Scalp Healthy?
Try not to overlook the health of your scalp—it can often be the key to optimizing hair health. Avoid over-shampooing, moisturize regularly, and if what you've tried at home just isn't cutting it, seek help from a professional. Remember, if the itching on your scalp seems really extreme, or if the thick, yellow flakes you've been dealing with seem like more than just a dry scalp, check in with a dermatologist to determine if you have an underlying condition that requires evaluation.
References:
Kim KS, Shin MK, Ahn JJ, Haw CR, Park HK. Investigation of hair shaft in seborrheic dermatitis using atomic force microscopy.

Skin Res Technol.

2011 Aug;17(3):288-94.

https://pubmed.ncbi.nlm.nih.gov/21272080/

Nestle FO, Kaplan DH, Barker J. Psoriasis.

N Engl J Med.

2009; 361(5):496-509.

https://www.nejm.org/doi/full/10.1056/nejmra0804595

Pechère M, Krischer J, Remondat C, Bertrand C, Trellu L, Saurat JH. Malassezia spp carriage in patients with seborrheic dermatitis.

J Dermatol.

1999;26(9):558-61.

https://pubmed.ncbi.nlm.nih.gov/10535248/